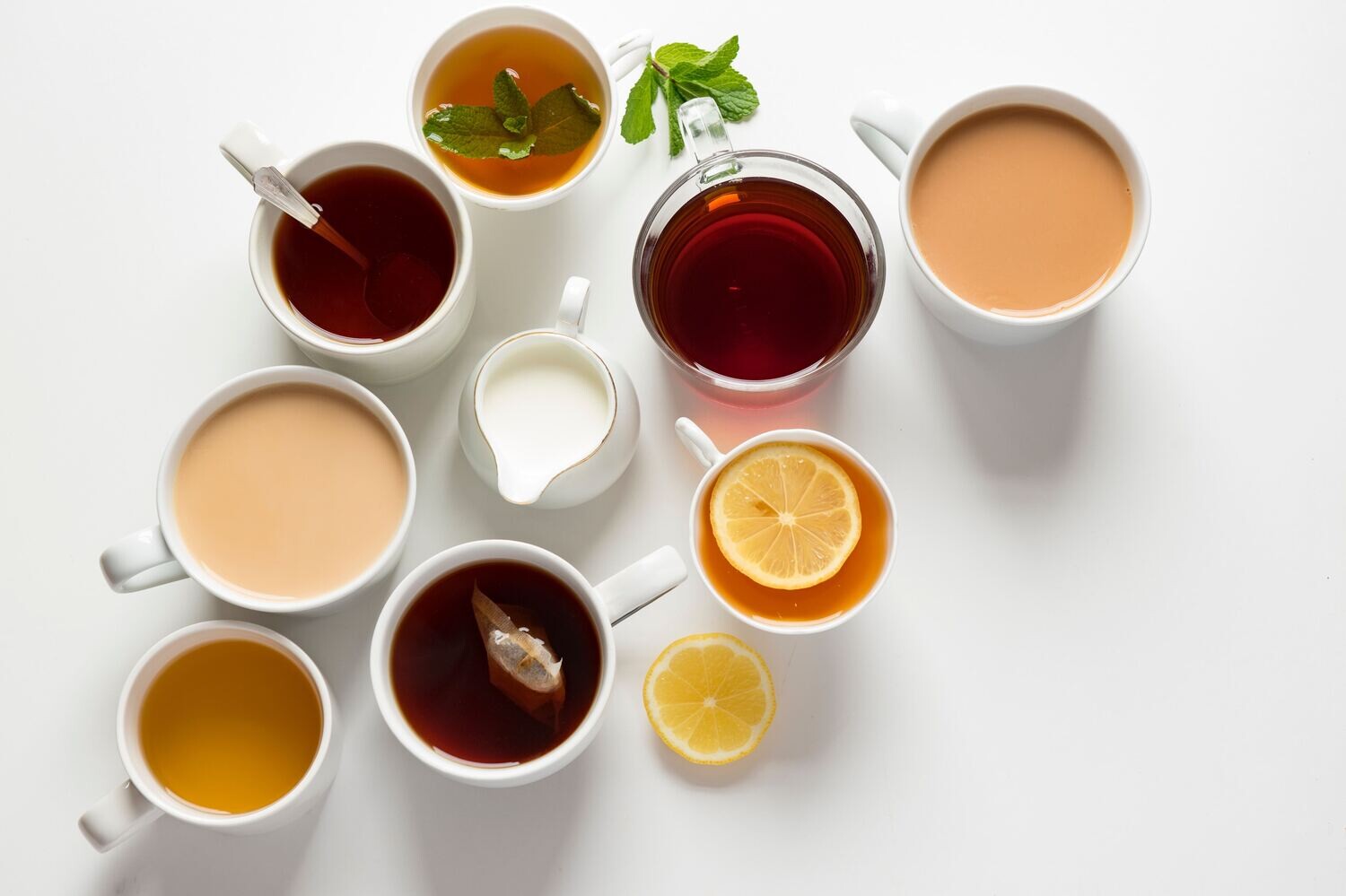 EndoTeas ​Regenerating Green, Jasmine, Oolong Hemp Tea & Balance Tulsi Rooibos Chai Hemp Tea - 10 mgs per serving - Various Serving Sizes for Hot, Iced or Maple Sweet Iced Brews
SKU 2
Product Details
10 mgs FS Hemp per 6 ounce serving for hot hemp brews

15 mgs FS Hemp per 10 oz serving with Maple Sweet Hemp Brews
Hemp Teas: Hot or Iced, Herbal, Maple Sweet
3 or 15 servings Green Hemp or Chai bags - 20 mgs full spectrum hemp per 6 ounce serving

1 or 5 Iced Tea Pouches - each pouch serving 10 - 10 ounces serving with 20 mgs full spectrum hemp per serving
1 or 5 Maple Sweet Iced Tea Pouches - each pouch serving 10 x 10 ounces serving with 25 mg full spectrum hemp per serving
Green Jasmine Oolong Hemp Tea Description: Alluringly fragrant, mildly sweet, lower acidic and tannin levels and double the health benefits. Despite its caffeine content, it is a relaxing drink with a remarkable panel of antioxidants, dietary fiber, no sugars, trace vitamins and minerals content, full spectrum cannabinoid panel.
Hemp Tea Essential Micro Nutrients:
Vitamins A, B1, B2, B3, C, and E; minerals calcium, manganese, copper, carotin, iron, selenium, potassium and magnesium.

between 30 - 100 mg of caffeine - depending on desired brew preference
With substantial niacinamide, detoxifying alkaloids and the powerful antioxidant epigallocatechin-3 gallate (EGCG).

Tannins which contribute to the bitter taste and astringency in tea - having the ability to easily bind with proteins and minerals.
Flavonoids epicatechin, epicatechin 3 gallate (ECG),epigallocatechin gallate (EGCG).

Amino acids theanine, tyrosine, leucine, xanthine alkaloids - adenine, dimethylxanthine, theobromine, theophylline, and xanthine; carbohydrates - pectin, glucose, sucrose, and fructose; chlorophyll pigments and triterpene saponins.
15 Fun Facts for Drinking This Green, Oolong, Jasmine & Hemp Tea Blend:
Science has proven this hemp tea blend has significant, vital and powerful micronutrients essential to a toned endocannabinoid system. These include: (1) Essential Antioxidant Properties, (2) Manage Type 2 Diabetes Aid, (3) Helps Manage Stress, (4) Improves Mental Alertness, (5) Improve Bone Strength & Prevents Tooth Decay, (6) Reduce Cholesterol Levels and Improved Cardiovascular Disease Prevention, (7) Gastrointestinal and Bowel Balancing Aid, (8) Immunity Booster, (9) Enhanced Stamina (10) Astringency - Mouthwash or Tea, (11) Delays Aging, (12) Weight Maintenance and Loss Aid, (12) Weight Loss Aid, (13) Skin Care - Anti-allergenic Atopic Dermatitis, (14) Detoxifies the Body, (15) Anticancer Potential
Essential Antioxidant Properties
Perhaps the most praised aspect of this delicate and delicious hemp tea blend is the high level of the antioxidant polyphenolic catechins that are integral in preventing certain serious diseases, working within the body to detect and destroy free radicals that can cause diseases and compromise the immune system.
(2) Manage Type 2 Diabetes Aid
This herbal tea brew has been managing type-2 diabetic disorders for decades, helping to regulate the amount of blood sugar and insulin in the bloodstream to reduce the dangerous dips and spikes in blood sugar. Also, the alkaline nature of green tea helps reduce the blood glucose level, ensuring good health and better functioning of the pancreas.
(3) Helps Manage Stress
Consuming these natural polyphenols regularly reduces overall stress levels.
(4) Improves Mental Alertness
Regular intake of caffeine-rich tea has shown to help improve mental performance and maintain alertness through extended time periods.
(5) Improve Bone Strength & Prevents Tooth Decay
Antioxidants protect teeth from decay and strengthen the bone structure. It is thought that some of the components in this tea actually stimulate the retention of minerals from other foods that we consume.
(6) Reduce Cholesterol Levels and Improved Cardiovascular Disease Prevention
This tea lowers blood pressure, therefore reducing the risk of stroke and coronary heart disease, and increasing the antioxidant capacity of the blood exponentially, this prevents the LDL cholesterol particles from heart disease oxidation.
(7) Gastrointestinal and Bowel Balancing Aid
This rich catechins polyphenolic compound blend has positive effects by activating several intracellular antioxidants and interaction with the gastrointestinal enzymes to promote healthy bowel function.
(8) Immunity Booster (Antibacterial, Antimicrobial, Antifungal)
Catechins prevent bacteria and viruses from attaching themselves to cell walls to infect them and they counter the toxins released by microbes. This antimicrobial property helps boost the immune system - preventing bad breath, protecting you from dysentery, diarrhea, tooth decay, and flu.
(9) Enhanced Stamina and Alleviated Depression
Caffeine and tannins are strong stimulants; affecting each of us differently yet the same in the regards to the enhanced stamina benefit.
(10) Astringency and Anti-inflammatory - Tea, Mouthwash and Dandruff Aid
Astringent substances trigger contractions and toning in muscles, tissues and skin. Consumed as a tea, a daily mouthwash or hair rinse, this blend can cause sufficient contraction in your gums to keep them firm and tight on the teeth, thus preventing loosening and loss of teeth. Additionally, rubbing these teas onto your scalp has proven to increase hair growth and reduce inflammatory issues, such as dandruff and hair fall.
(11) Delays Aging
Catechin polyphenols, epigallocatechin gallate (EGCG) panel, has proven that regular consumption of these teas can effectively delay the signs and symptoms of aging.
(12) Weight Loss Aid
Tea polyphenolic compounds are linked to activating and improving fat cells functions, controlling the fat metabolism in our body, reducing obesity and decreasing total cholesterol and triglyceride levels.
(13) Skin Care - Anti-allergenic Atopic Dermatitis
Anti-allergenic compounds help to relieve irritation and chronic skin problems, like atopic dermatitis.
(14) Detoxifies the Body
Proven to eliminate savage hangovers and fatigue caused by lack of sleep or alcohol hangovers, this tea (with added lemon juice) is a popular remedy to boost the energy or eliminate these after-effects quickly.
(15) Anticancer Potential
There is a well-known link between tea drinking and a lower risk of skin cancer from the polyphenolic compounds found in this tea blend. Specific chemical properties prove to promote apoptosis in the case of cancerous cell growth in the stomach. This polyphenolic extract also acts as a chemo-preventive instrument against the development of other cancers as well. These compounds stifle the activation of carcinogenic cells, prevent the formation of N-nitroso compounds, and trap genotoxic agents before they can become effective.
Possible Side Effects
While we love the taste and many health benefits of oolong tea, be aware that caffeine is a powerful chemical. Monitor your body's response to this change in your diet, just as you should with all new foods and nutritional sources.
Despite all of these important benefits, this tea blend has a high caffeine content. For some people, this may not be the healthiest component of this beneficial beverage. Caffeine affects people differently. Some of the side effects of excess caffeine are: Anxiousness, Headache, Sleeplessness, Diarrhea, Heartburn, Irregular heartbeat, Confusion. Diabetes, heart conditions, anxiety disorders, irritable bowel syndrome, and high blood pressure are more serious conditions that can be exacerbated by too much caffeine intake. Drinking too much of any tea can actually have the opposite effect of removing excess calcium that your body is processing. For patients with osteoporosis, this can speed up bone degradation.Please consult your physician prior to consuming this beverage.
Tannins interfere with the breakdown of complex proteins into simpler proteins and their subsequent absorption into the body.

Xanthine alkaloids: Some researchers believe that these alkaloids aggravate and stimulate uric acid formation in the body, thereby triggering and helping the formation of stones in the gallbladder and kidneys.
---
Tulsi Rooibos Chai Hemp Tea Ingredients: Organic tulsi, organic rooibos, organic cinnamon, organic licorice root, organic cloves and organic ginger.
Sustainable Source: North India small farmers
Terpenes: flavonoids, eugenol, camphor, flavonoids, nerol, camphene, cineol, carvacrol, hexane, methylene chloride, ethanol, benzene**
Health Benefits: analgesic, sedative, anti-congestive, anti-microbial, and anti-inflammatory, disinfectant properties.
Vitamins & Minerals: Vitamins A, B6, C, E, K, riboflavin, niacin, thiamin, folate; minerals potassium, calcium, magnesium, phosphorus, iron, sodium, zinc,
Nutrients: carbohydrates, protein, energy, dietary fiber.
Description:
We start with the most revered medicinal herb on the planet, holy basil, or Tulsi in Hindi, add the low glycemic, adaptogen, and natural antibiotic cannabimimetics red rooibos, cinnamon, cloves, licorice, ginger and hemp to create a most satisfying, full-bodied, mildly spicy brew bursting with abundant undeniable health effects. Our customers primarily use this delish blend for lowering sugar levels and improving their cognitive functioning.
Evidence based science proves these herbs and spices are powerful essential phytonutrients that possess the 14 following nutritional and health benefits of: (1)Immunity Building Properties, (2) Diabetes Management, (3) Cognitive Alertness and Abilities Boost, (4) Bone Health Aid, (5) Digestive Balance, (6) Detox Flush, (7) Headache Relief, (8) Respiratory Disorders Relief, (9) Helps Prevents Heart Diseases, (10) Reduces Stress and Lower Blood Pressure Aid, (11) Mouth Freshener and Oral Disinfectant, (12) Menstrual Cramps, (13) Anxiety and Depression, (14) Boost Gastrointestinal Health
Immunity Building Properties with abundant Antibiotic, Antibacterial, Antifungal, Antitumoral, Anticancer, Antiinflammatory and Disinfectant Properties
Our Chai Hemp Tea's combination of botanicals possesses several of the planet's most powerful natural immunity building blocks. The remarkable natural antibiotic and low glycemic index properties of tulsi, rooibos, cinnamon, licorice root, cloves and ginger phytonutrients protect our body from all sorts of bacterial, viral, and fungal infections.
Regular consumption has shown the following from preventative measures from free radicals:
to protect your eyes from conjunctivitis, cataracts, macular degeneration, glaucoma, vision defects, and ophthalmia. Endo Chai Hemp Tea soothes eye inflammation and reduces stress.

their ability to improve heart health and prevent certain chronic diseases

prevent the growth of dangerous pathogens, certain fungal and bacterial infections from affecting your health.

soothing spasmodic effects - soothing the symptoms of seizure disorders and spasms of smooth muscle tissue in the body, help to relieve heart palpitations, smooth digestive properties, and ensure proper muscle function throughout the body.
Diabetes Management
The most impressive health benefits of Our Chai Hemp Tea include its ability to help manage diabetes by reducing blood sugar levels, reducing the major influx of glucose into the bloodstream, chemically slowing the process of emptying your stomach, balancing glucose levels, and thereby preventing drastic spikes and drops. By helping to regulate insulin and glucose balance in the body, these herbs and spices can be both a preventative measure and an effective treatment for diabetes.
Cognitive Alertness and Abilities Boost
Our Chai Hemp Tea creates a splendid chemical connection between the brain and the scent and taste of these select spices. Simply by inhaling these classic terpene aromas, new neural pathways are stimulated resulting in increased overall cognitive activity.
(4) Bone Health Aid
High levels of magnesium and calcium are found in these spices, which gives a significant boost to your bone health and helps in preventing osteoporosis. The manganese is a special microelement that is an essential cofactor in bone cartilage and bone collagen formation.
(5) Digestive Balance
All of our Chai Hemp Tea spices have historically been used as common digestive remedies by cultures around the globe. Each ingredient offers unique essential gastrointestinal nutrients to help maintain balance. Together, they do remarkable things to help our body and brain balance.
(6) Detox Flush
Our Chai Hemp Tea possesses mild detoxifiers/diuretic herbs and spices, helping to reduce the uric acid level in the body, and flush kidneys and liver through increased frequency of urination. Urination eliminates excess salts, fats, toxins, and water from the body, relieving strain on the kidneys, bladder and liver. These high antioxidants protect the vital organs from free radical effects in the liver.
(7) Headache Relief
A migraine headache, sinus pressure, cough, and cold or high blood pressure may be effectively controlled by the use of a single serving of our Chai Hemp Tea. Terpenes camphene, eugenol, cineol, carvacrol, and methyl-chavicol have excellent analgesic, sedative, anti-congestive properties.
(8) Respiratory Disorders Relief
Congestion relief properties from chronic and acute respiratory disorders such as bronchitis, asthma and even smoker's lung damage, is found within terpenes camphene, eugenol and cineole. This herb and spice blend can quickly cut through the phlegm and mucus, soothing inflammation in the throat, and giving the immune system a boost to eliminate the underlying bacteria or pathogen.
(9) Helps Prevents Heart Diseases
These herbs and spices contain vitamin C and the terpene antioxidant eugenol which protects the heart from the harmful effects of free radicals and is very beneficial in reducing cholesterol levels.
(10) Reduces Stress and Lower Blood Pressure Aid
Chai Hemp Tea is abundant with antioxidants to minimize the stress caused by oxidants. These herbs & spices soothe nerves, lower blood pressure, reduce inflammation, and thus reduce stress.
(11) Mouth Freshener and Oral Disinfectant
Chai Hemp Tea is an excellent natural mouth freshener and oral disinfectant. These herbs and spices have natural antibiotic properties to destroy the bacteria in the mouth responsible for dental cavities, plaque, tartar, bad breath, and protecting teeth.
(12) Menstrual Cramps
Chai Hemp Tea ingredients ingested in moderation have traditionally been used to treat menstrual cramps, improve mood swings, hormonal fluctuations and other PMS symptoms.
(13) Anxiety and Depression
The soothing flavor and stimulating activity of this tea improves mood and rebalances stress hormone levels, helping individuals suffering from anxiety and depression.
(14) Boost Gastrointestinal Health
All ingredients in our Chai Hemp Tea help to balance digestion and control gastrointestinal irritation.
---------------------------------------------------------------------------------------------------
Words of caution: All reviewed studies concluded favorable clinical effects with minimal or no side effects. However, it is advisable to avoid holy basil if you are pregnant, lactating, or trying to conceive. It is recommended that you speak to your doctor before including holy basil into your diet.
Side Effects of Cinnamon
Despite all the health benefits, there are also some risks associated with cinnamon, especially when it is had in large quantities. Take a look at the potential side effects below.
Allergies
A latest collaborative research published in the Clinical Nutrition journal suggests that cinnamon can show allergic reactions in people.
Gastrointestinal Disorders
The 2019 study also revealed that although cinnamon is used frequently as a spice, it can cause gastrointestinal disorders when consumed for a longer duration.
Liver Damage
Coumarin, found in cinnamon, may cause liver toxicity. In 2015, researchers from Providence Hospital and Medical Center found that its supplements could prove to be fatal to liver health. The use of supplements resulted in an occurrence of hepatitis in a 73-year-old woman, who was simultaneously administering statin for coronary artery disease.
Oral Disorders
The Open Dentistry Journal has published research showing that consuming cinnamon flavoring agents can result in mouth sores, swelling in the gums and tongue, white patches, and burning sensation. It suggests that people witnessing any of these symptoms should discontinue using cinnamon and its related products.
Low Blood Sugar
Cinnamon can help in lowering high blood sugar but studies show that consuming it for an extended period can make your sugar levels fall drastically.
The benefits of this spice, however, outweigh its side effects. It is a delicious addition to many foods around the world so enjoy the sweet flavor but keep in mind to do it in moderation.
**Bioactive Substances in Cloves
According to a University of Texas at Austin research study, certain bioactive compounds isolated from clove extracts include flavonoids, hexane, methylene chloride, ethanol, thymol, eugenol, and benzene. These biochemicals have been reported to possess antioxidant, hepatoprotective, anti-microbial, and anti-inflammatory properties.
Save this product for later